Product Description
Electric forward forklift CQDH15C
Details of Exhibits
Battery-driven forklift truck with 1500 kg load, double-shears trolley, red/yellow
Security and stability:
Emergency power is off. Both sides of the battery with a side push system are very easy to replace the battery.
The cushion can be operated with low noise.
Built-in relief valve to prevent forklift overload.
• Equipped with adjustable handrails for different operators.
Multifunction display: battery status, hour meter, fault indicator, etc
• Advanced AC control systems eliminate motor brushes and directional contactors to minimize maintenance requirements.
Stepless speed regulation intelligent regenerative braking system: by reducing battery charging interval to improve the overall performance of the truck.
Service capacity:
Low battery protection settings extend battery life.
• The back cover is easy to open, easy to maintain and adjust valves, tubing and electronic parts.
• CANbus technology reduces wiring complexity and improves reliability.
• All pivot points are provided with grease joints and serviceable bushings that reduce part wear and prolong part life.
Structure:
Scissors fork by the electric controller operation, stable operation and no impact.
Low center of gravity ensures stable operation.
The turning radius of the vertical drive wheel is small and easy to maintain. Motor structure waterproof and dustproof.
Model Name   CQDH15C (with double contributors)
Drive type   battery battery
Load capacity/Rated load Q (kg) 1000 1000
Load centre distance c (mm) 500 500
Load distance,centre of drive axle fork x (mm) 159 135
Tyre size,front mm 280×82+160×60 280×82+160×60
Tyre size,rear mm 125×82(4) 125×82(4)
Wheels,number front rear (x =driven wheels)   1+2 1+2
Tilt of mast/fork carriage forward/backward) Grad 2/5 2/5
Height,mast lowered h1(mm) 2375 2125 2625 2675 2345 2185 2505
Free lift h2(mm) ~ ~ ~ 2000 1700 1575 1825
Max.lift height h3(mm) 3500 3000 4000 4500 5000 5500 6000
Height,mast extended h4(mm) 4535 4035 5035 7035 6035 5535 6535
Height of overhead guard h6(mm) 2246 2246
Overall width b1/b2(mm) 1308 /1040 1370/1040 1308/1040
Overall length l1(mm) 2585 2609
Length to face of forks l2(mm) 1515 1539
Fork Dimension s/e/l (mm) 35/100/1070 35/100/1070
Reach distance l4(mm) 1200 1200
Fork height,lowered h8(mm) 130 130
Distance of "X"(see bellow diagram) mm 350 350
Overall length (including the work) mm 1868 1868
Ground clearance,centre of wheelbase m2(mm) 65 65
Aisle width for pallets 1000× crossways 1200 Ast (mm) 2951 2971
Aisle width for pallets 800× lengthways 1200 Ast (mm) 3034 3056
Turning radius Wa (mm) 1718 1718
Travel speed,laden/unladen Km/h 6.5/7 6.5/7
Lift speed,laden/unladen m/s 0.135/0.16 0.135/0.16
Lowering speed,laden/unladen m/s 0.15/0.12 0.15/0.12
Battery voltage,nominal capacity K5 V/Ah 24/420(560) 24/420(560)
Battery weight kg 450 450
Battery dimension l/w/h mm x336X610 770 x336X610 770
Service weight (with battery) kg 2530 2480 2590 3030 2830 2730 2930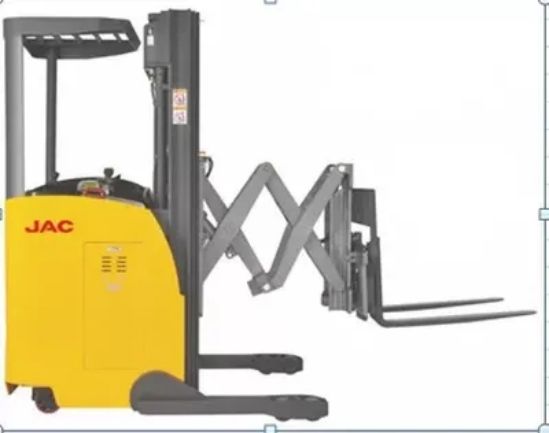 Core Value Service Ends Yingkou Yuyuan Industrial Co.,Lit
Yingkou Yuyuan Industrial Co.,Lit, Founded in 2003,Registered capital 80.000.000RMB(10.000.000EU).Located in the Bayuquan of city Yingkou ,Province Liaoning China.
Our company`s mission is to help entrepreneurs quality products made in china easily and securely direct from Chinese factories,and you could enter site:https://www.made--in--china.com/ to look for what products you need made in china.
Our company keep working on the international market,in 2006 ,founded [Oversea Economic Trade and Cooperative Zone - S.C Meteor International Import &Export S.R.L ROMANIA ", Business covered to Central and Eastern European.
And in 2005, Approved by Liaoning Province as [Province-level Oversea Economic And Trade Cooperation Zone"in ROMANIA.
In 2020 ,Approved by Liaoning Province as "Department Of Commerce Of Liaoning Province Business Representative Office [In Romania.
According to the require of the international market network, we have already built the biggest oversea warehouse in Romania-European,and the first "China Commodity (European) Exhibition and Trading Center",and created the site- https://www.made--in--china.com/,realized a marketing model combining online and offline products made in china.
Company Name: Core Value Service Ends Yingkou Yuyuan Industrial Co.,Lit
Representative: Liushiyu
Product/Service: Plastic Additives , Plastic Machinery /made in china , Plastic Packaging Products , Gardening Tools , Auto Parts/ made in china , Home Decoration Materials
Capital (Million US $): 80,000,000RMB
Year Established: 2003
Contact Person: Mr. Zhou
Tel: 0086-417-6237404